A suitable cat tree is a must for a cat parent. The cat tower can provide our cat with a good spot to rest, play and lounge, however, how to pick a perfect cat tree for my cute cats? How to choose a decent size if I have more than one cat? The overwhelming number of cat activity center products on the market dizzy us to choose. But as long as we know them well, we can find a perfect cat tree house for our cats.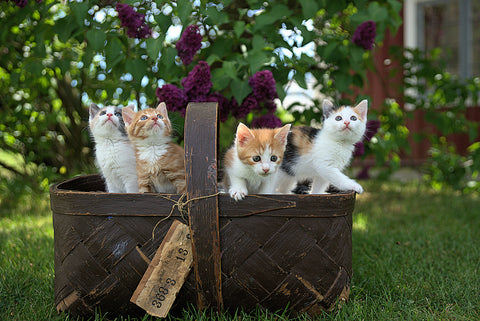 In this blog, I would like to share some key points about cat trees to help you know about them well. In addition, I will compare several hot-sale cat tree houses from Topeakmart.com. Through comparison, I hope you can find a perfect and right cat tree for your furry friend. Let's read on.
You will know about cat tree houses from the following points:
Materials
Size
Color
Price
Accessories
#How to choose a suitable tree for cats?
The most common materials of cat condos' surfaces are fabric and wood. The plush cat towers give cats much softness and comfort, while wooden cat trees are more like real trees. The materials we talk about here refer to the covering materials of a cat tower. The surface is the most direct and important part because the cat touches it most frequently.
The material is one of the most important factors which play critical roles in whether your cat will like the tree you buy for him/her. The materials of your cat tower shall be harmless to cats, to you, and your families.
The safety of the materials is one thing, and the cat's preference for the texture is another thing. If your cat spends lots of time outdoors, I would recommend solid-wood cat towers or MDF (medium-density fibreboard) cat trees. The wooden texture is more close to the outside environment. If your cat is a homebody, the soft plush cat tower is the best.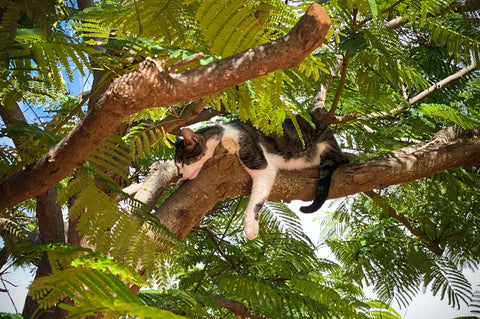 Before you choose the size of the cat furniture, you need to be aware of where you plan to put that cat tree, in a small corner or a big pet playroom; second, how many cats do you have, or will you have. To meet different cat owners' needs, there are various sizes and shapes of cat houses on the market, small, large, or extra-large; round, rectangle, or changeable shape. Finding the right size is essential.
If you plan to put the cat tree in a corner, it is easy to choose; any right-angle shape can fit in a corner. If your cat has his/her own room, a bigger cat tower will be nice so that he/she can spend a lot of time on that tower without feeling bored.
Generally, a small cat tree is perfect for one cat. A medium cat climbing tree is good for two kittens or one large-sized cat. If you have more than two cats, you need to buy a large cat tower so that they won't fight for territory. Make sure each cat has a condo or nest to stay.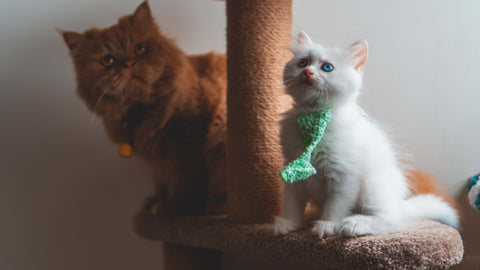 A cat stand is not only a big toy for your cat but also a nice decoration for your house, so the style and color should be considered when you choose the right cat post. It is a smart way to find an easy-to-match color, like gray, black, white, so that the cat climbing tree won't conflict with the whole home style.
Or, you can choose your favorite color. I like beige and my room has pink wallpaper, so I buy a beige cat tree for my cute British Shorthair. A bright color is a nice choice as long as it is matching your taste, the wallpaper, and other furniture.
This is absolutely a personal choice. If you have a generous budget, you can get a bit more advanced and high-end cat tower. If you want a practical and economical cat condo tree, you may buy one at a lower price. Most normal cat trees range from $45 to $110 for your information.
A fully-equipped cat tree has some interesting accessories, including elastic hanging toys, scratchers, tunnels, cradles, baskets, and so on. The hanging toys are attractive for cats to play with. The scratching posts and boards prevent cats from damaging your leather furniture, good for sharpening cats' paws. The tunnels are suitable for cats to climb. The cradles and baskets are great for cats lounging and resting.
If your cat is active and likes playing, these accessories are necessary. Because when you are not home, it is these accessories that accompany your cat through a long day. A basic type is enough for sleeping and resting, but more accessories and toys, more fun.
#Comparison between different cat tree houses?
Here I would like to show you some advantages and disadvantages of the cat trees by comparing several different cat trees so that you can find the right cat tree for your cute furry friend.
1. Classic Small Cat Stand
Pros:
Measuring 40.5x40.5x59cm (LxWxH)/16x16x23.5inch (LxWxH) , this small-sized cat stand won't occupy too much space, which is suitable for a small room.
Although this cat house is small, it has basic functions. The cat can hide, sleep and scratch.
Featuring a square shape, this cat tree house is small but stable.
The small size of the cat stand realizes easy moving and transport.
Cons:
The size of this cat tree is relatively small, which is not suitable for the owner who has two or more cats, or large cat breeds.
Lack of interesting layout, this cat tree can only meet the cat's need for resting and hiding and scratching. If your cat is active and likes jumping, this cat house is not a right choice.
Specifications:
Material: P2 particle board, plush fabric, sisal rope, and iron
Overall dimension: 40.5x40.5x59cm/16x16x23.5'' (LxWxH)
Condo size: 31x31x26.5cm/12.2x12.2x10.4'' (LxWxH)
Door size: 19x22cm/7.5x8.7'' (WxH)
Top perch size: 52x38cm/20.5x15'' (LxW)
Maximum load: Condo: 5kg/11lb; Top perch: 5kg/11lb
G.W.: 6.7kg/14.8lb
2. Multilevel Cat Condo Tree
Pros:
This tall cat tree has multiple levels for cats to play, jump, climb, sleep and scratch.
The condos of this cat tree have easy access for cats to go in and out.
The appearance is cute; you can find a pair of cat ears on the top perch.
The multi-level and interesting layout can meet cats'various needs for daily activities. They won't feel lonely and bored even if you are not home.
This multi-level cat condo tree is suitable for the owner who has multiple cats.
Although this cat condo tree is high, it has an anti-toppling device for extra safety.
Cons:
Tall cat trees require more space. If there is not too much space in your house for this big cat tree, you'd better choose a smaller cat tree for cats.
The large size of the cat condo may be a problem for transportation and move.
The stepped platforms may be a little small for big cats.
Specifications:
Material: manufactured wood, plush, and sisal ropes
Overall dimension: 49x49x137cm/19.5x19.5x54'' (LxWxH)
Big condo size: 49.5x25x24cm/19.5x10x9.5'' (LxWxH)
Small condo size: 28.5x28.5x24cm/11.2x11.2x9.5'' (LxWxH)
Round platform dia.: 30cm/12''
Maximum load: 20kg/44lb
G.W.: 14.2kg/31.2lb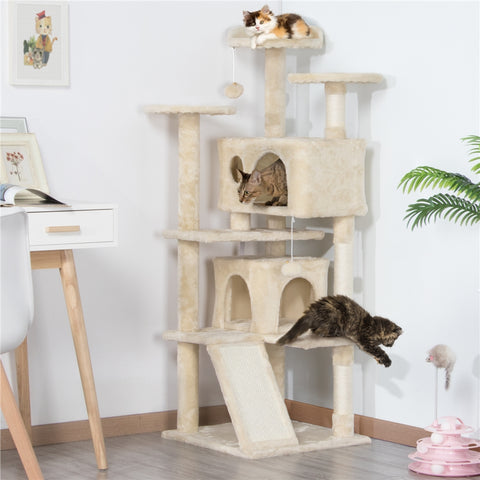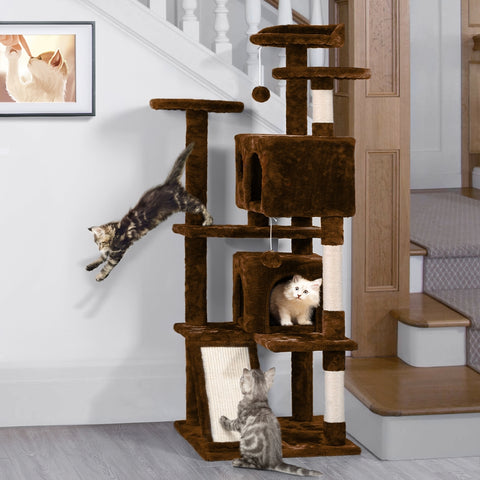 This cat tree is similar to the previous one, including multiple levels, a cat-ear perch, easy access, etc. Base on the advantages we talked about before, this cat tree house has a practical scratching board, or a ladder, which is useful for cats to sharpen their paws and also for easy climbing.
Specifications:
Material: particle board, paper, plush, and plastic
Overall dimensions: 49x49x139cm/19.5x19.5x55in (LxWxH)
Small condo size: 28x28x24cm/11x11x9.4in (LxWxH)
Big condo size: 45.5x28x24cm/18x11x9.4in (LxWxH)
Scratching board size: 21x38cm/8.3x15in (WxH)
Diameter of round platform: 30cm/12in
Maximum load bearing: 20kg/44lb
Gross weight: 14kg/31lb
3. Tall Cat Climbing Tree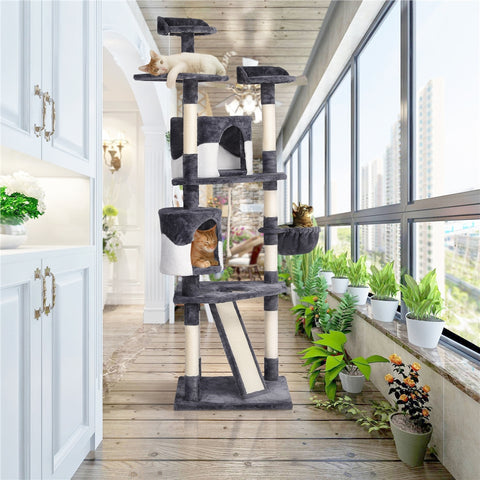 Pros:
This tall cat climbing tree is fully-equipped. It has perches, condos, a basket and scratching posts and a ladder. Meet cats'various needs.
This tall cat stand measures 58.5x58.5x200cm (LxWxH)/23 x 23 x 79'' (LxWxH). The multi-level layout is suitable for the owner who has two or three cats.
This cat tree house also has a hanging ball and rope for cats to play.
The scratching posts setting in different heights, plus a scratching ladder, good for sharpening cats'
The tightly wrapped sisal posts and ladder are tough and durable for long-time scratching.
Cons:
The height is not suitable for a crowded and low roof.
You need to double secure the cat tree to avoid toppling and shaking considering its high height. Pay more attention to safety and keep children away from the tall tree.
Specifications:
Material: manufactured board, 400gsm plush, sisal 
Overall dimensions: 58.5x58.5x200cm/23x23x79'' (LxWxH)
Baseboard: 58.5x58.5x2.5cm/23x23x1'' ((LxWxThickness)
Round perch: 30x8.5cm/11.8x3.3'' (Dia. x edge height)
Rectangle perch: 30.5x35.5cm/12x14'' (WxL)
Polygonal condo: 41.5x41.5x31cm/16.3x16.3x12.2'' (LxWxH); entrance: 20x24cm/8x9.4'' (WxH)
Round condo: 31x31cm/12.2x12.2'' (Dia.xH); entrance: 20x26cm/8x10.2'' (WxH)
Basket diameter: 30cm/12''
Ramp: 58.5x17.5cm/23x7'' (LxW)
Hole diameter: 20cm/8''
Max. Load Capacity: condo: 12kg/27lb; perch: 7kg/15 lb; basket: 4kg/9lb
G.W.: 20.1kg/44.3lb
4. Bright Color Cat House
Pros:
Aiming at the needs that some cat owners want a bright color cat tree, I find this pink cat tree house. If you like pink stuff in your life, this cat tree is a good choice.
This cat tree condo has both beauty and practicability. With a small cubby and a bigger one, it is suitable for the cat family that has various sizes of cats.
Nice color and design, this cat stand will also be a good gift for a little girl.
The instruction manual and accessories are included for assembly.
Cons:
This bright pink color is a little finickyfor the surrounding environment, like wallpaper, furniture. You need to know that the cat tree is not only a cat toy but also a piece of furniture in your house. The integrality is important.
Specifications:
Material: P2 particle board, 380gsm plush, sisal, metal, and plastic
Overall dimension: 61x49x158cm/24x19.5x62.2'' (LxWxH)
Foam-edged perch size: 38x14.5cm/15x5.7'' (Dia.xH)
Cubic condo size: 35.5x30.5x25.5cm/14x12x10'' (LxWxH); entrance size: 18x19cm/7x7.5'' (WxH)
Barrel-shaped condo size: 33x25.5cm/13x10'' (Dia.xH); entrance size: 19x19cm/ 7.5x7.5'' (WxH)
Hammock size: 42x34cm/16.5x13.4'' (LxW)
Platform hole diameter: 16.5cm/6.5''
Baseboard size: 61x49cm/24x19.5'' (LxW)
Supporting post diameter: 6.5cm/2.6''
Maximum weight capacity: total: 40kg/88lb; condo/perch: 10kg/22lb; hammock: 8kg/17.6lb
G.W.: 17.4 kg / 38.3 lb
5. Changeable Cat Condo
Pros:
As the pictures shown, the direction of this cat condo is changeable. You can reset the condo part as you need.
This cat house has rolling hanging balls. Cats will fall in love with the balls and rope.
Two layouts: you can put the tree against the wall or turn the condo part and place it in the corner.
The whole layout tends to be horizontal, and the condo is at the bottom, so this cat condo house has good stability.
Cons:
The maximum weight capacity of the condo/perch is 5kg/11lb. This cat tree is not suitable for heavy cats or large-sized cats.
Sometimes the plush cat tree can be hard to clean.
Specifications:
Material: particleboard and flannelette
Overall size: 124.5x66x135.5cm/49x26x53.5in (LxWxH)
Condo size: 40.5x40.5x31cm/16x16x12.2in (LxWxH)
Top perch size: 35x35cm/14x14in (LxW)
Lower perch diameter: 24cm/9.4in
Ramp size: 51.5x15.5cm/20.2x6in (LxW)
Bottom board size: 59.5x40.5cm/23.4x16in (LxW)
Max. weight capacity of condo/perch: 5kg/11lb
G.W.: 16kg/35.2lb
6. Wooden Cat House with Carpet Mats
Specifications:

Material: Particleboard, veneered MDF board, sisal rope, blended fabrics, felt cloth, and paper tube

Overall size: 59x56.5x88cm/23.5x22.5x35in (LxWxH)

Perch size: 42x34x7.5cm/16.5x13.4x3in (LxWxH)

Basket size: 40x30cm/15.7x12in (LxW)

Scratching board size: 34x15cm/13.4x6in (LxW)

Higher condo size: 30x30x30cm/12x12x12in (LxWxH)

Lower condo size: 29.7x30x31.5cm/11.7x12x12.4in (LxWxH)

G.W.: 15.8kg/34.8lb

Specifications:

Material: Particleboard, veneered MDF board, sisal rope, blended fabrics, felt cloth, PP cotton, and paper tube

Overall size: 71x44x131cm/28x17.5x52in (LxWxH)

Condo size: 34x34x34cm/13.4x13.4x13.4in (LxWxH)

Top perch size: 51x33cm/20.7x13in (LxW)

Small platform size: 44x24cm/17.3x9.4in (LxW)

G.W.: 17.2kg/38lb

 
Pros:
The main materials of the surface of this cat house are wood and carpet. Different from the plush covering, this wooden cat tree gives your cat the feeling of outdoor activities.
Because of the smooth wooden surface, this cat stand is easy to clean. A wet cloth can do the job.
The cloth mats on the cat trees are removable. The mats are attached to the board by hook and loop fasteners, easy to put on and take off.
The wooden cat tree is a good choice for hot summer. Cats have less requirement for heat and warmth in summer. Comparing with long plush, the wooden cat stands with carpet mats prevail.
The condo comes with a cushion inside.
The lower hammock is removable.
Every cubby has two openings for cats to easily go in and out.
Cons:
Carpet cat houses are not as aesthetically pleasing as plush cat trees, because they do not have attractive faux fur.
Warm tips:
At last, I want to share some warm tips with you so you can use the cat tree house safely and extend its service life.
Remember to keep the cat tree dry and clean for your beloved cat. Please pay attention to the fire. Also, if you have children in your house, prevent your children from climbing tall cat trees. It is dangerous! Last but not least is to make sure the size of the cat tree fits your pet before you place the order. Carefully check the specifications of the products; some cat tree is for small kittens and some condos are good for big cats.
No matter plush cat tree or wooden cat tree, big cat condo or small cat stand, only what is right is the best. Take the above points into consideration when you buy a cat tree, again, including materials, size, color, prize and interesting accessories. According to your cat's personality, habits, and preferences, choose a best cat tree.
About Topeakmart
Topeakmart is your reliable online destination for shopping pet supply. Born in 2020, Topeakmart is committed to providing all pet lovers with good-quality supplies at a competitive price. We love pets just like you, so we care about all details from the designing process to the moment you receive the product. Helping our customers raise pets easier and making pets live a happier life will be our pursuit all the time.
Be Kind and Authentic. We are a team full of Love, Passion and Action. We're happy to meet you here!
(*Resources: The pictures in this blog are from https://unsplash.com or took  by Topeakmart)