Meta Description: Before bringing a pet parakeet home, you need to give it a comfortable and spacious place to eat and sleep. Check some of the best Topeakmart large parakeet cages you can get.
Best Topeakmart Large Parakeet Cages – Buying Guide & Recommendations
Parakeets capture human hearts with their cute fluffy figures and smart little brains. Yes, they win our "awww" with both their appearance and inside. Therefore, more and more families plan to have a parakeet as an indoor pet like a cat. The bird cage or parakeet cage is a little room in which your pet parakeet can eat, play and sleep.
It's preferable that you have prepared a cage and filled it with everything a bird may need before you take your feathery friend home. First and foremost, we will recommend some of our best large parakeet cages where your cat can relax, eat, fly, play, and sleep.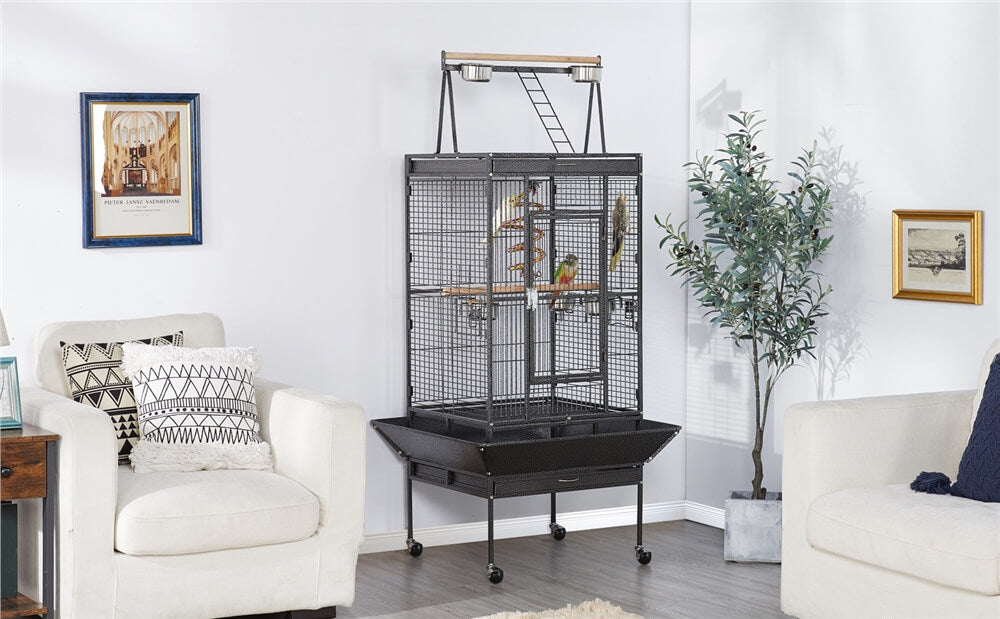 What to Look for When Choosing a Parakeet Cage?
Size
Get the largest bird cage you can afford. If you are a student or you have a 9 to 5 job, and your parakeet will be in the cage for most of the time, then you need to prepare the largest cage you can afford for your pet bird. Since parrots are extremely active animals, they need enough space to do their natural behaviors that they do in the vast nature such as fly from side to side, climb, hang upside down, swing and hop from perch to perch. And you also need a large parakeet cage to fit the toys, feeders, perches. Otherwise, your feathery friend may likely get depressed if being kept in a small cage with no much entertainment.
Besides, it's better to have a wider bird cage rather than a taller but thinner one. Because parakeets fly horizontally not vertically, a parrot cage with larger width is more appropriate for parakeets' flying habits. As for the length and width of the cage, it is suggested that the bird's tail will not touch the walls of the bird cage while standing on the perch, and the width should be at least 1.5 times your bird's wingspan.
Bar Spacing
Choosing the appropriate bar spacing is choosing safety. The bar spacing of a bird cage especially refers to the vertical space between the bars. There will be some security risks if you pick a wrong bar spacing for your bird. The recommended bar spacing for a parakeet is around 1/2". If the bar spacing is too larger, your parakeets may stick their heads through the bars, get stuck, or even squeeze all the way through and escape. Conversely, if the bar spacing is too small, you and your birdie's sight can be blocked and can't see or know each other well! Therefore, decent bar spacing helps your little friend get familiar with its new home as soon as possible, and keep them safe as well.
Cage Style
For purposes like practicality and aesthetics, the bird cage styles can be generally classified into round cages and rectangular cages with a flat top, domed top, open-top or play-top. The dominant cage styles on the market are rectangular parakeet cages with a flat top, which is more suitable for most birds. On the basis of a flat-top rectangular cage, a play-top birdcage adds an extra perch, ladder, feeders on top of the cage. An open-top cage is more like a transformable cage whose top can be opened and held by a perch, providing a comfortable place for birds to stand outside the cage, and can be closed and locked to give birds an enclosed space as needed.
The least recommended bird cage type will be the round cage. Because most of the round parrot cages don't have enough horizontal space for birds to fly side to side, and they don't have any corners for birds to hide and feel secure in when they get scared. Other than this, the rectangular parakeet cages with whatever top type should be fine for your fluffy friend's health.
Material and Quality
Remember to evaluate the overall quality of the parakeet cage for your vulnerable birdies. Generally speaking, a full metal birdcage excels a plastic cage in safety, hygiene, and durability. An ideal bird cage is made of stainless steel or metal powder-coated with non-toxic and water-resistant paint, which is anti-rust, easy to clean and safe in case your bird pecks and chews on it. Likewise, stainless-steel feeders are more preferable to plastic feeders since plastic feeders can have more bacterial growth. A stainless-steel feeder is the most sanitary option.
Before introducing your bird into his/her new house, you need to check thoroughly on the parrot cage to make sure it has no pointed or sharp edge/corner exposed in neither the inner nor exterior of the cage. The prime purpose of the cage is to protect your little friends from the potential hazards in the house (like heated pots, swirling fans), so the cage itself should be reliable.
Advantages of Using A Large Parakeet Cage
Good for Bird's Health
A large parakeet cage especially with a larger width provides adequate space for birds to fly horizontally, just like what they do in the wild. If a cage is too small and with a few toys in it, parakeets can feel confined and get depressed, which will lead to appetite loss, aggression, feather plucking and other health problems.
Guarantee Your Parakeets' Hygiene
A large parakeet cage often comes with a smart bird dropping and waste products collecting design at the cage bottom. It contains a slide-out grate that avoid birds from standing or walking directly on the wastes and a slide-out tray that catches the feces and spilled seeds and water. This grate and tray combination helps both your pet parakeet and the cage to maintain a higher hygiene level, and also the slide-out design makes daily cleaning a breeze.
More Space to Play and Live
Parakeets are social animals and they need a lot of interaction and stimulation to let out their energy. Therefore, either you spend a lot of time playing with them every day to keep them busy, or you build them a large "amusement park" inside their cage to let them entertain themselves when you can't play with them. A large parakeet cage can fit different kinds of toys, swings, perches, feeders and meanwhile, won't make your birdies feel crowded and uncomfortable inside the cage.
Furthermore, if you want to introduce a new similar-sized avian friend to your parakeet, a large birdcage can still accommodate them with ease if they get along well with each other.
Pet Parent-Friendly
Parakeets are susceptible to fume, continuous heat and cold air, direct sunlight… so you may need to change the cage position from time to time. A large parakeet cage often equips with a rolling bird cage stand considering its size, which makes it easier to move around the house as needed.
6 Best Topeakmart Large Parakeet Cages Reviews and Guide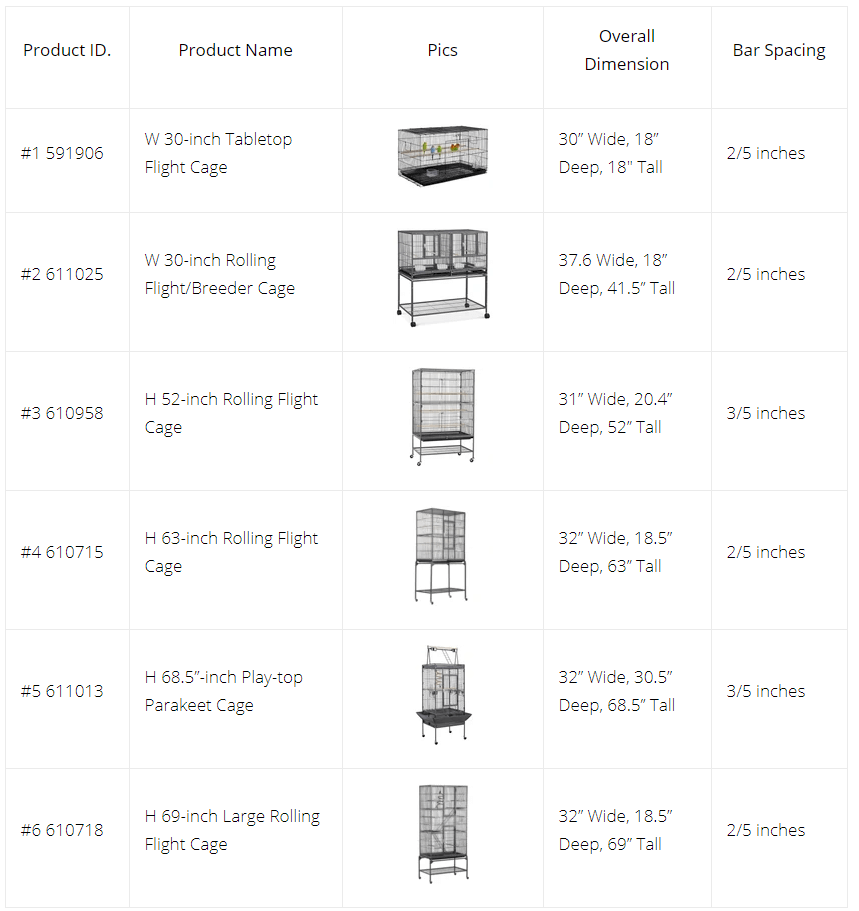 #1. W 30-inch Tabletop Flight Cage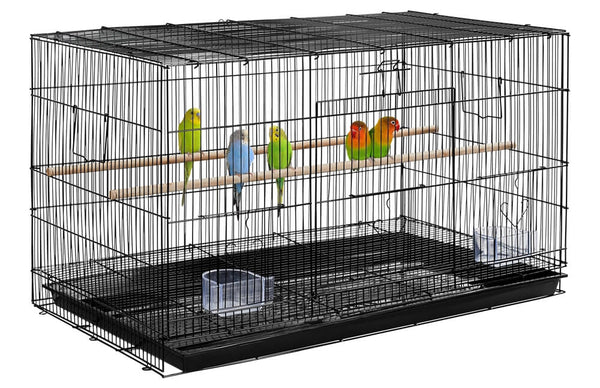 This is a cost-effective parakeet cage with a size of 30" wide by 18" deep by 18" high. The size and 2/5" bar spacing make it a decent flight cage for parakeets/budgies. Constructed of powder-coated metal wires and a plastic slide-out tray, this parrot flight cage is super lightweight and convenient to carry with 2 side handles.
The adequate inner space allows you to fit a lot of toys and perches in it. And this birdcage also comes with two full-width solid wood perches and two feeders so you can save the money to buy more bird necessities. The bottom tray can be easily slid out for cleaning.
If you're looking for a tabletop flight cage for your pet birds, this compact parakeet cage is an ideal pick. It's light and stable and can sit on any flat surface in your living room, bedroom, or balcony to let your birdies enjoy the fresh air and warm morning sunlight. You can stack two same cages together if you have multiple birds, which can save much space in the room.
Pros
• Lightweight and portable
• Budget-friendly flight cage with decent size
• Tabletop cage and you can stack one cage on another if you got two
Cons
Not as sturdy as a wrought iron birdcage
Key Specs
• Color: Black
• Material: Powder-coated metal, plastic
• Cage dimension: 30" Wide, 18" Deep, 18" Tall
• Bar spacing: 2/5 inches
 #2. W 30-inch Rolling Flight/Breeder Cage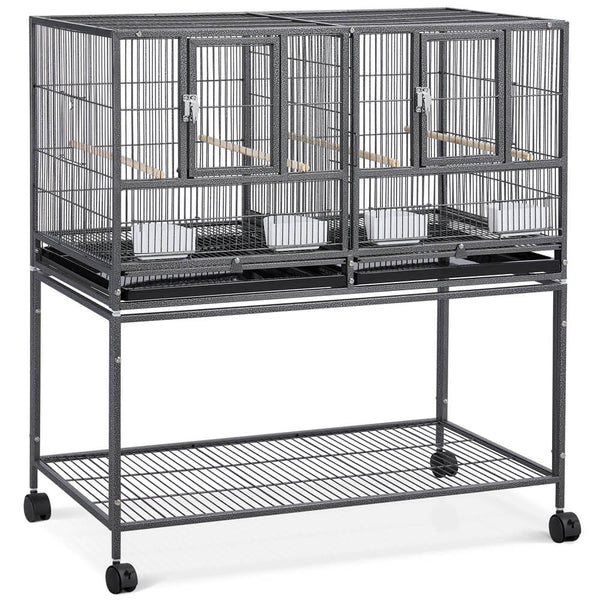 This 30-inch wide parakeet cage is crafted out of hammered painted wrought iron, which boasts excellent strength and water-resistance. The cage measures 37.6" wide by18" deep by 20.5" tall, and its inner space is separated into two small cubbies by the detachable dividing grate. It means that you can have two individual smaller bird breeder cages or one large flight cage by removing the dividing grate. Each small birdcage system contains 2 perches, 2 feeders, a front door with a lock, a side door, and a pull-out tray.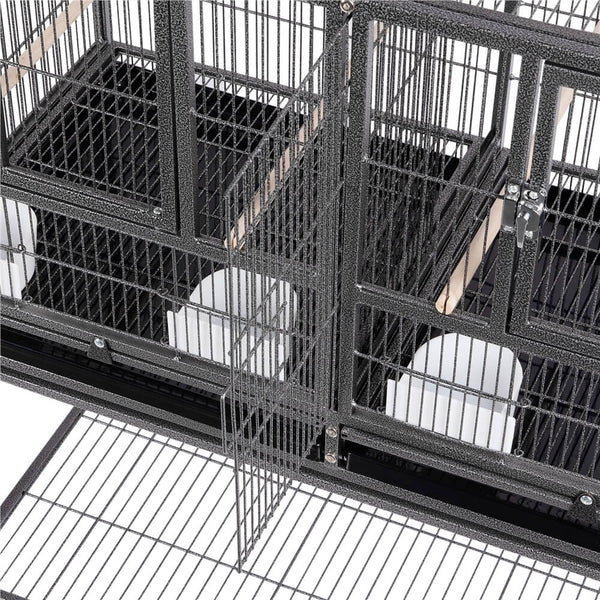 The parrot cage sits on four 360-degree swivel wheels (two with brakes), which can be rolled and moved around the house without effort. The upper cage can be used separately thanks to the detachable design. At the bottom of the bird cage stand is an extra storage shelf, keeping bird cage cleaning tools, bird seeds and toys handy and neat.
Pros
• Heavy-duty wrought iron construction
• Serve perfectly as a flight cage or a breeder cage
• Rolling stand offers extra storage space for bird supplies
• Easy to assemble
Cons
Some users complain that the cage height is a little low
Key Specs
• Color: hammered black
• Material: iron
• Cage with stand: 37.6 Wide, 18" Deep, 41.5'' Tall
• Cage only: 37.6" Wide, 18" Deep, 20.5" Tall
• Bar spacing: 2/5 inches
#3. H 52-inch Rolling Flight Cage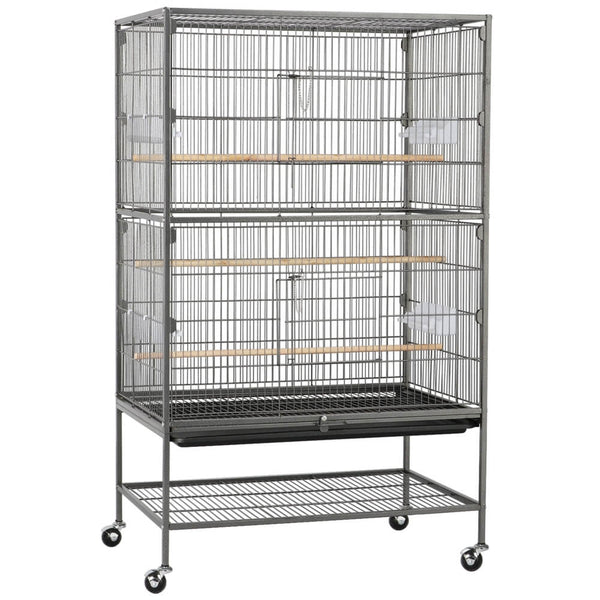 Founded atop an all-directional rolling stand, the 31" wide by 20.5" deep by 37'' tall large parakeet cage with a 3/5" bar spacing can provide plenty of room for 2-3 parakeets/budgies to fly and play. Since the main body is raised by the bird cage stand, this total height of the birdcage is 52", which is at about chest level that makes birds feel safer and more secure comparing with a lower height.
This large parrot cage is built in heavy-duty metal construction and finished with non-toxic hammered paint, laying a solid base for durability and sturdiness. The water and rust-resistant surface and slide-out tray make cleaning work less messy and time-consuming.
The bird cage comes with 3 solid wood dowels and 4 feeders for your convenience. The wide bottom shelf offers additional storage space for bird supplies.


Pros
• Heavy-duty wrought iron construction
• Spacious enough to house 2-3 parakeets and fit their toys and perches as well
• Rolling stand offers extra storage space for bird supplies
• Easy to clean
Cons
The sliding rods that closed the doors are not very convenient since they must be taken out completely to open the doors.
Key Specs
• Color: hammered black
• Material: iron
• Cage with stand: 31" Wide, 20.4" Deep, 52'' Tall
• Cage only: 31" Wide, 20.5" Deep, 37'' Tall
• Bar spacing: 3/5 inches
#4. H 63-inch Rolling Flight Cage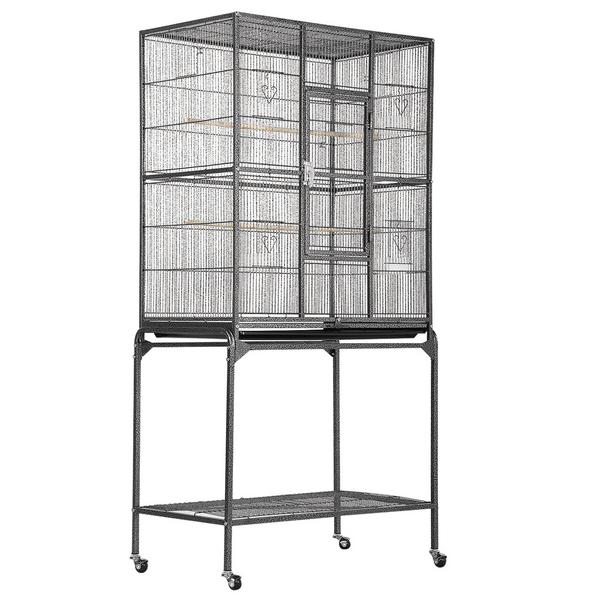 If you're finding a large tabletop flight cage but also want that cage can be moved freely in the house, this 63-inch-tall large parakeet cage is your pick. The upper cage and the rolling bird cage stand are fully detachable, which means you can have them put together for effortlessly moving or you can use the upper cage separately and place it on any flat surface.
This roomy parrot cage measures 30.3" in width, 18.3" in depth, 36.4'' in height and a bar spacing of 2/5", a decent and safe flight cage for small-sized birds. And thanks to the 4 feeder doors, feeders are accessible without opening the front door, which means you can refill bird food and water from the outside and don't need to risk your avian friends escaping, or scaring them.
More convenience follows with the pet parents-friendly accessories and design such as the 2 solid wood perches, 4 feeders and the extra bottom storage shelf.
Pros
• Spacious and sturdy wrought iron construction
• Detachable rolling stand, easily transformed into a tabletop cage
• Extra storage space for bird supplies
• Easy to clean
Cons
The feeder doors locked by curved wires may need an extra security measure like zip ties if your feathery friends are too smart.
Key Specs
• Color: hammered black
• Material: iron
• Cage with stand: 32" Wide, 18.5" Deep, 63'' Tall
• Cage only: 30.3" Wide, 18.3" Deep, 36.4'' Tall
• Bar spacing: 2/5 inches
#5. H 68.5"-inch Play-top Parakeet Cage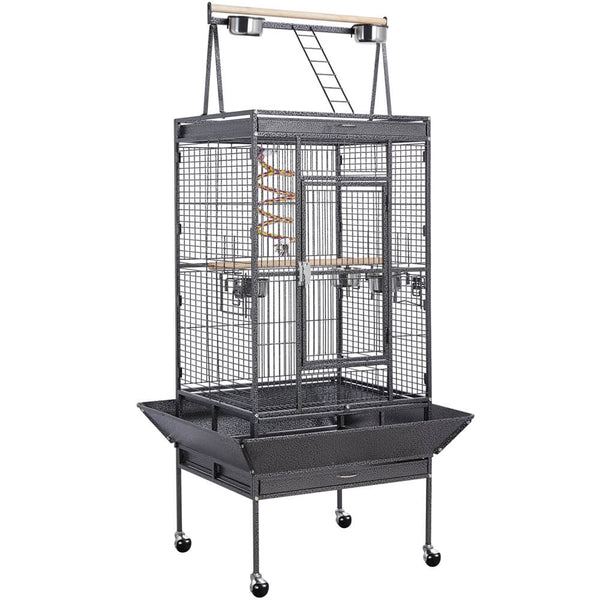 Considering the large size and functions, this play-top parrot cage is definitely a deluxe house for your pet parakeets. Atop the main body is an extra out-of-cage play area that contains a ladder and a wooden perch for climbing and standing, 2 stainless-steel feeding bowls and a slide-out tray that holds the spilled food and bird dropping. The play-top design provides a place for your birds to have fun outside of the cage and you can have a better interaction with them.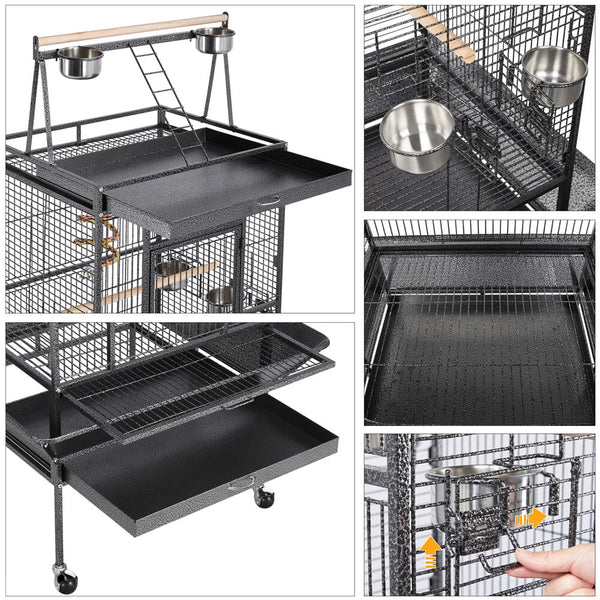 This large parakeet cage is in full metal construction and finished with hammered paint. The metallic and antirust surface makes it a durable and easily-managed cage. The large inner space can easily accommodate several birds, which is a good choice for families with more than one small-sized bird. Inside the cage, it has 3 stainless-steel bowls that can be accessed from the outside. Each feeder door is secured with a latch to prevent your smart birds from opening and escaping. The pull-out bottom grate and catch tray make cleaning a breeze. And the seed guard catches and collects most of the scattered food, preventing them from falling on the ground and messing the room.
The large birdcage is equipped with four 360° swivel casters to make sure you can move around it in all directions without much effort.
Pros
• Spacious and sturdy wrought iron construction
• Play top design offers an extra perch on top of the cage
• Convenient feeder doors and seed guard
• Comes with a boing rope, five stainless steel bowls and a solid wood perch
Cons
Some customers complain that instruction is not detailed enough.
Key Specs
• Color: hammered black
• Material: iron
• Cage with stand: 32" Wide, 30.5" Deep, 68.5'' Tall
• Cage only: 24" Wide, 22" Deep, 35'' Tall
• Bar spacing: 3/5 inches
#6. H 69-inch Large Rolling Flight Cage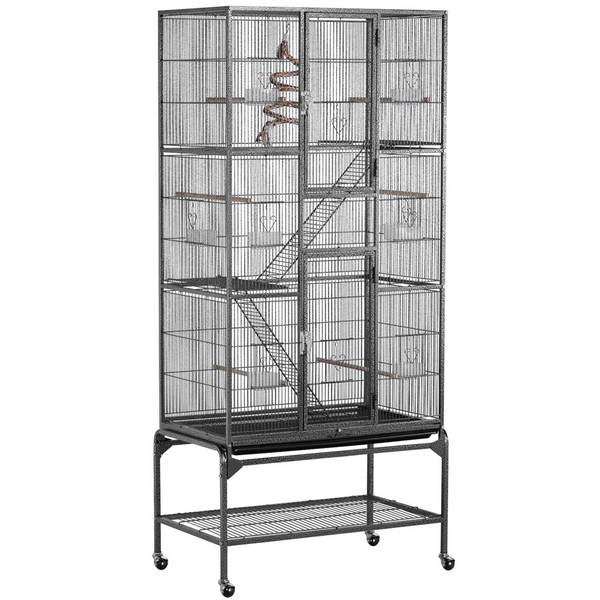 If you have 3 to 4 parakeets or you're planning to give your birdies the most fabulous bird mansion stuffed with various toys and perches, this extra-large parakeet cage is the one you can't miss. With a size of 30.3" wide by 18" deep by 51.2'' tall, this rolling flight cage offers generous space for your pet parakeets to fly and play. It has 2 platforms and 2 stairs that partly separate the space into 3 sections, making this cage more like a superior villa. And of course, you can remove them as needed.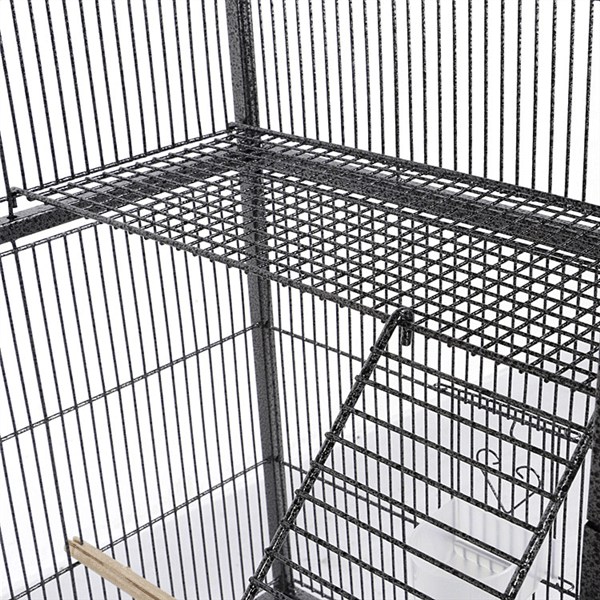 This super large bird cage also comes with a boing rope, six solid wood perches, and eight feeders with access doors. The main body and the bird cage stand are detachable. You can keep all your bird supplies right at hand on the bottom storage shelf.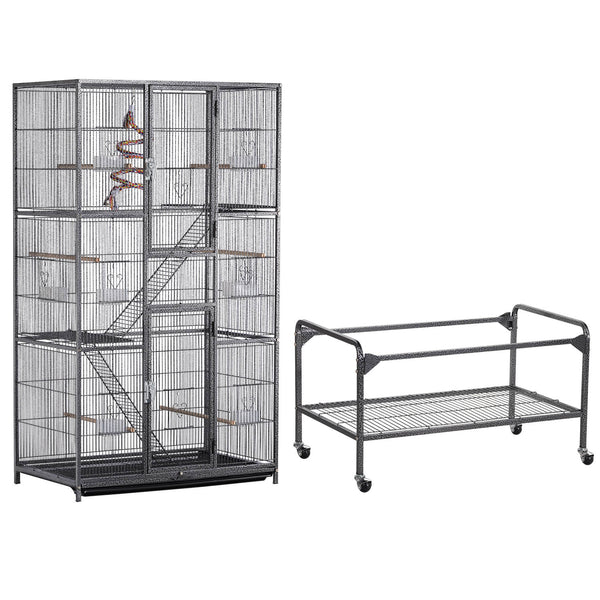 Pros
• Solid wrought iron construction
• Extra-large cage offers ample space to house several parakeets
• Comes with a boing rope, eight bowls and six solid wood perches
Cons
Some of the thinner bars were a little bent caused in the delivery but can be easily remedied
Key Specs
• Color: hammered black
• Material: iron
• Cage with stand: 32" Wide, 18.5" Deep, 69'' Tall
• Cage only: 30.3" Wide, 18" Deep, 51.2'' Tall
• Bar spacing: 2/5 inches
FAQs on Parakeet Cages
1. Where should I place a parakeet cage?
First and foremost, keep a parakeet cage away from the places that:
(1). Have drastic temperature changes such as places closed to heat or AC. Parakeets are sensitives to temperature changes. Rapid temperature changes in their living environment may harm their health.
(2). Near poisonous elements such as man-made poisons like air fresheners, scented candles, and cooking fumes, or naturally toxic plants, such as yew, rhododendron and azalea.
You can keep a parakeet cage at:
(1). A well-trafficked part of the house. Parakeets in nature love socialization. They need attention, interaction and toys to keep them active. But avoid places that involve too much noise like somewhere near TVs and speakers.
(2). A chest level height. Parakeets are prey animals and tree dwellers, so in the wild, they always prefer to perch on a higher place where they can have a better view to see what's going on around them and feel safer.
2. What do I need to set up my parakeet's home?
We have a checklist for you, and if anything is missing in this checklist, please leave us a message to help us and other parakeet parents to complete it.
(1). Perches: natural wood perches, platform perches, fabric rope perches, sisal rope perches, wood dowels, sand perches
(2). Toys: shredding toys, foraging toys, ladders, swings, boings, bridges
(3). Food/water bowls
(4). Cuttlebones
(5). Mineral blocks
3. How often should I clean bird cage?
It depends on the number of your birds, the cage size and how often your birds are in their cage. Most birdcages need to be cleaned once a week. But do remember to clean your bird's food bowls and water bowls daily.
4. How do I clean a parrot cage?
In the weekly or monthly deep-clean process, you can apply a bird-safe cage cleaner on a damp rag to remove the stubborn or stuck-on messes on the perches, food bowls, the cage walls and the catch tray. Though most metal parrot cages are made of water and rust-resistant materials, it's still necessary to dry your cage thoroughly after cleaning it with water. It helps extend the service life of the cage.
5. How often should I let my parrot out of his cage?
Parakeets are extremely social and active animals that need a lot of interaction, socialization, and exercise. Therefore, it's better to let your feathery friends out of their cage whenever you can whenever you are home and spend time interacting with them. By letting them out as much as you can, the relationship between you and your pet birds can be greatly improved even when you're busy with your own things and don't directly interact with them.
6. When should I cover my parakeet cage?
It's an individual choice to or not to cover your cage. Some birds are more comfortable sleeping in a covered cage but some may feel stressed since they lose sight of their surroundings and can be spooked easily. If you find your birds are okay with their cage covered, you can cover the birdcage with a light-weight, breathable fabric when your birds sleep because a dark and quiet place is more comfortable for birds to sleep in. But do remember to choose a breathable covering like cotton or cotton blend fabric, and always leave a cage side uncovered or take extra measures when covering all sides for ventilation purposes.
Customer Impression on Our Parrot Cages
Below are some loving reviews from our satisfied Amazon bird parents and their pet birds:
"Roomy cage for your parakeet. Easy to put together."
 "This cage is HUGE! ...almost as big as my front door or even a small refrigerator!"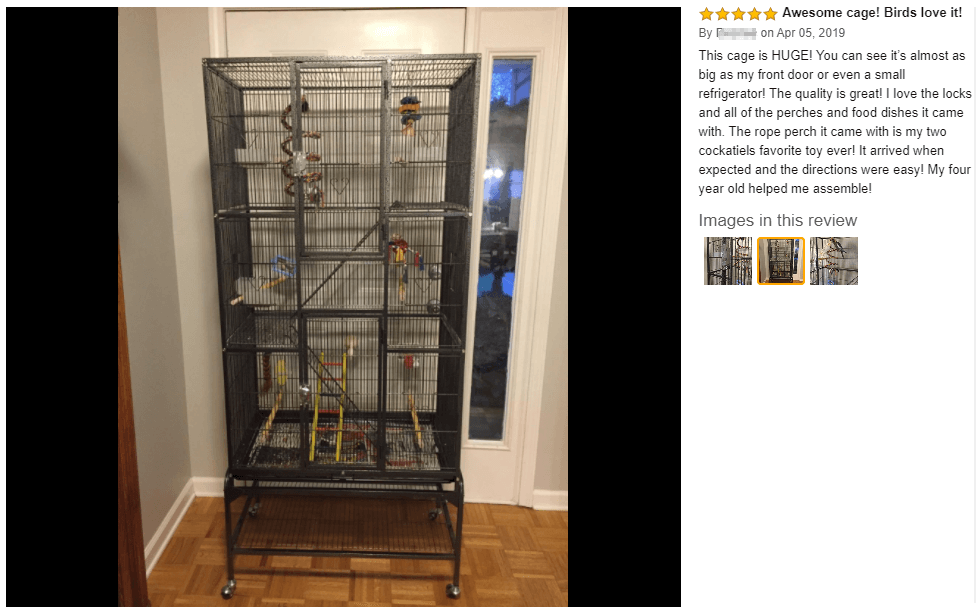 "My 4 Budgies love it! With this cage they have a lot of room (even after adding toys)."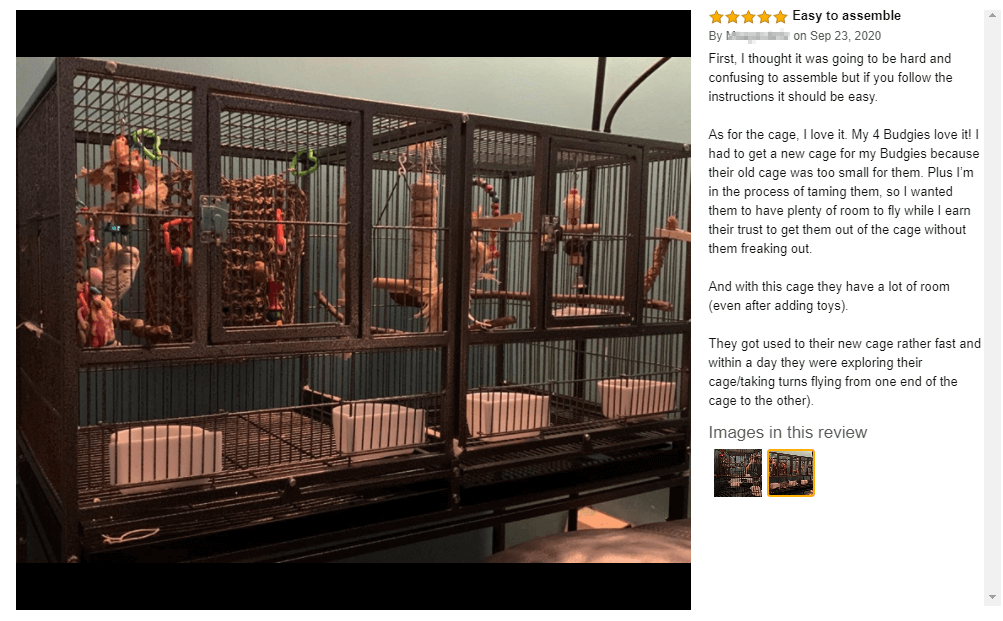 Conclusion
In a nutshell, you can never give your birds a cage that is too big for them. Birds can fly for miles every day in the wild so they still require a spacious area to fly and play when raised indoors. Besides, parakeets are highly intelligent, social and active animals, which means they require a lot of attention, stimulation and interaction from their owners or other stimuli such as toys. Therefore, it's always better to go for the largest parakeet cage you can afford. It can provide your avian friends with ample space to stretch wings, play and fly even after furnished with toys, perches and feeders. Large bird cages vary in functions, features, and materials. You can find one that is most suitable for your pet birds and you.
If you have any further questions, welcome to contact us via info@topeakmart.com.